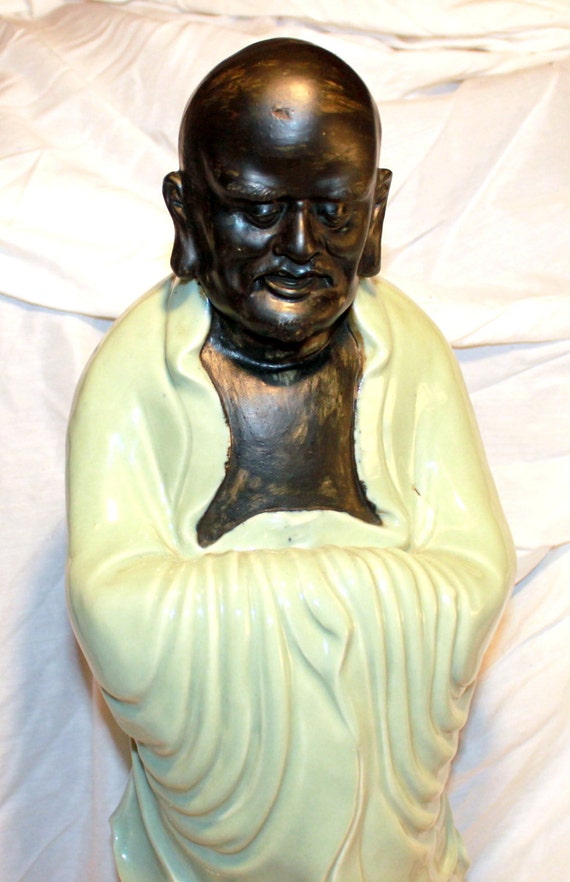 You are looking at a very Large Antique Celadon Glazed Shiwan Mud Man Figure
Depicting Bodhidharma a top a wave and reed.
This Piece has been in my family since the late 30's.
It was made into a lamp when it was purchased, by my Great Grandmother, then converted back into a statue by my Grandmother.
There is a small hole in the back where the wiring once was.
Stands 22'' Tall and Weighs 20lbs
There is a small chip on the robe as seen in close up.
There is also a chip on the reed in the front below feet.
Minor cracking from age, very minimal.
The Artist painted the bisque part black, there is blending around the painted edges.
This is Celadon Glazed. Incredible detail in the face and the robe.
Its is an Authentic Shiwan Celadon Mudman, From the Southern Regions of China. The piece is very heavy, It is Hollow, but thick. I am not sure if the hole in the bottom was there to begin with or made to install lighting during the conversion to a lamp.
This piece is so beautiful and has had a lot of exciting travels in its time! I hope you love it as much as we have all these years.